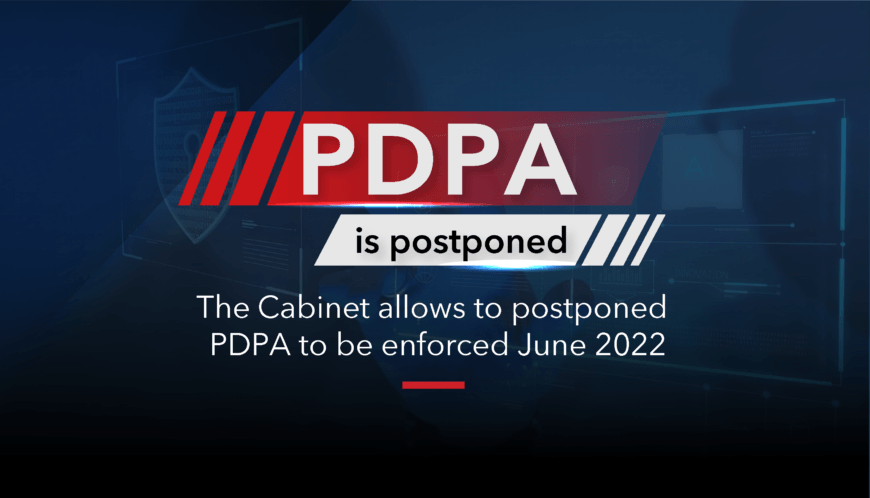 Thailand PDPA – Personal Data Protection Act Postponed
The cabinet has approved the deferral of the full enforcement of the Thailand PDPA or Personal Data Protection Act (PDPA) slated for this June by another year, with the explanation of the difficult time with the pandemic in Thailand and the legislation's related processes have yet to be settled.
The postponement request was forwarded by the Ministry of Digital Economy and Society to the cabinet meeting on Wednesday and the royal decree drafted to defer the enforcement was agreed upon, according to a ministry source.
Enforcement is pushed back to June 1, 2022.
The source said several procedures linked to the act have yet to be completed, including the appointment of the 16-member Personal Data Protection Committee.
According to the current status, the PDPA needs further adjustments and necessary regulations still need to be drafted, as many issues have been raised for consultation with regard to the PDPA since it came into effect. The main priorities on which the government intends to focus are as follows:
Supporting people's access to innovation and technology,
Creating an ecosystem conducive to a digital economy,
Gearing up for digital infrastructure development, particularly 5G and smart city projects,
Legal development and enforcement to create a trusted digital ecosystem, especially for the PDPA and issues related to electronic transactions and cybersecurity,
Protecting the public from abuse on social media and the internet.